Cozy Kitchen and Organized Mudroom
This family of four needed a space that worked for their busy lifestyle, and our client desired a warm, inviting kitchen like her childhood home had, not her small, dark one. She imagined a kitchen with clean lines and dreamed of incorporating her favorite Motawi tiles into the design. Our designer knew this family put their trust in Alpha after working with other area firms and we were up to the challenge.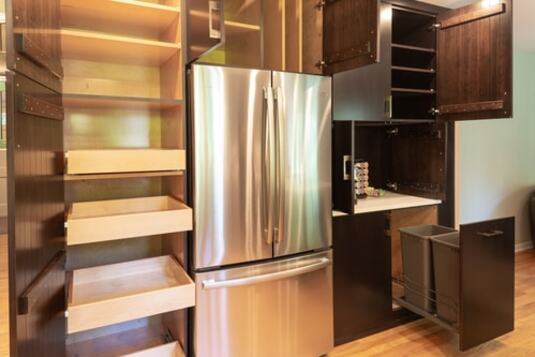 Opening two storage areas inside the garage entry created a mudroom for the family to unload school supplies and coats, with plenty of storage for sports equipment and musical instruments.
We increased the size of the kitchen by enlarging the window and decreasing an 8' sliding door wall. Enhancements like a space for keys and mail help the family stay organized. We crafted a special cabinet to hold a white/cork board, as well as a pocket door cabinet to store a microwave and coffee maker above a pullout recycling bin. Electrical outlets were concealed in the countertop and under cabinets so they didn't conflict with the beautiful Motawi tile backsplash, just like our client dreamed of.
Listen to our team talk about this project from the 2019 BRAG Fall Remodelers Home Tour below:

Our client had a solid vision for their kitchen that included a unique tile for the walls and modifications to the size of the kitchen window and patio door. This required our team to not only create a beautiful, personalized interior, but also be aware of how those changes would affect the exterior. Windows, doors and brick needed to match the existing structure. It took three trips to a brickyard, but we were able to perfectly match the exterior brick and give the clients exactly what they wanted, inside and out.
- Mary Hamp, Senior Interior Designer
Build Your Dream Home with Ann Arbor-Based Alpha Design + Build
The Design Build method, built on collaboration and communication, unifies the designer and builder as a single entity. Our team includes professional designers, project managers and master carpenters working together to provide beautiful custom living spaces and ensuring our clients have a smile on their face from start to finish!